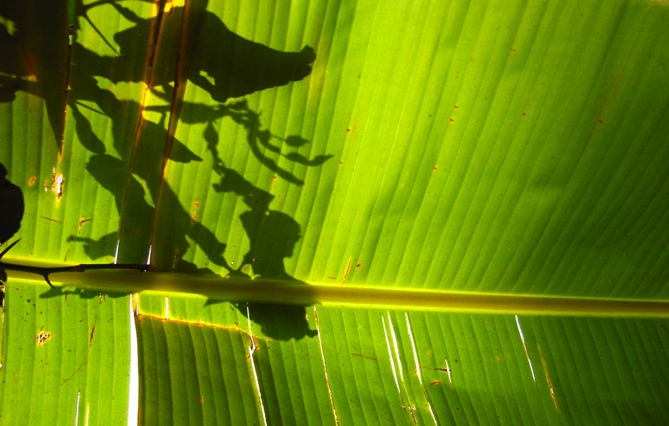 ~ Nature
All night I could not sleep
because of the moonlight on my bed.
I kept on hearing a voice calling:
Out of Nowhere, Nothing answered "yes."

~Zi Ye (sometime between 6th-3rd century BCE)
transl. Arthur Waley
We could say that silence, rest, and nature are the gurus of our retreats. Sometimes "nature" alone helps things fall into place—just being with a lake or field of new rice; just absorbing the sunrise or the warmth of a rock; just breathing in the moon or an unfolding leaf; just disappearing into the rhythm of trees or frog song. We drink the beauty of simple things, even the beauty of dead things. We feel the value of basic things, the real value and "price" of a tomato, of food, of wood, water, and air. Both in the wild and in the garden, the elegance and dynamism of "nature" may resonate deeply enough to stir what one Tibetan facilitator calls the "instinct of awake."
What is nature? Life in its perfect imperfection, its freedom and diversity of creatures, colors, and voices...Visible nature shows order and chaos, reliable flux, an overflow of uniquenesses. Immeasurable nature--beyond biology--flows in us as an inner knowing, a willingness to question, a life beyond birth and death. The heart stretches beyond itself by touching the vastness in each living detail—a yak's eye, a wave falling over itself, the morning light.
Outer nature often guides us beyond the measurable into our deepest nature of freedom. Whether secret canyons and native forest or humble vegetable gardens and pruned branches glowing with fruit—nature in this world helps many people re-align with their deepest wisdom and clarify their priorities in life. Just as we cultivate the deep heart and tap into our spontaneous wildness, garden and wilderness can help release us from long-held habits into a life of true creative nature.
When we dare, when we forget our busy-ness, when we are humble enough to enter wilderness, something familiar and unexpected shines through to us, shines through us. When we care for a watermelon vine, when we feel how a tomato plant needs water, when we are grateful to an apple tree, we are whole and home. When we allow the bare color or sound or smell of a leaf to land inside us, we are here. We are still, and simultaneously profoundly moved; we are transparent and broad; we embrace and are embraced.
Open Dharma tries to locate retreat venues in or near the inspiring refreshment of "nature" to help us all come home to our true nature. On retreat, we may walk together silently through a forest or desert, or we may play deep ecology games of Joanna Macy and others. Being in the wild, in a garden, or in an ecologically sustainable home, we thrive on the felt knowing that we participate in nature, that we belong, that we feed and are fed.

We aspire to let nature offer its inimitable teachings through gardens, food, wilderness, and training in ecological sustainability. To create a home on earth for human and ecological diversity dedicated to awakening.