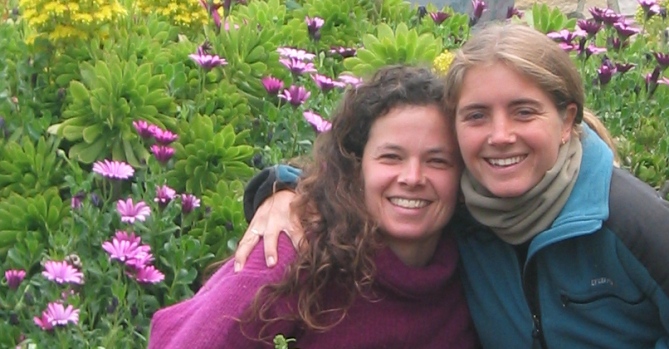 ~ Open Dharma Teachers
A spiritual friend can inspire us to connect with our own potential, but ultimately we ourselves actually have to walk our own way, hear our own genuine voice, and fulfill our own potential. Nobody else can do it for us, but it is okay to need encouragement to stream our own wisdom and love into our lives.
Jaya Ashmore has dedicated her life to spiritual awakening—both in her own meditation since 1986 and in helping spark breakthrough and depth for others since 1999. The main influences on her teaching are: her youth in a Christian family, Tibetan and Theravada Buddhist practice, her six years with Advaita master Sri Poonjaji, her fifteen years of practicing Jin Shin Jyutsu, and her long-time friendship with her colleague Ajay Singh.

She has lived most of her adult life in India, and now also spends half the year at Dharmaloca in northeastern Spain.

Gemma Polo Pujol was born in Barcelona, Spain in 1976. At the age of 11 she began meditating on her own, inspired by St. Francis of Assisi. In 1992, she began practicing Zen intensively for ten years. During this time, she also spent two years as a contemplative nun and a Catholic activist in Latin America. Later, while working as an organic beekeeper, she studied Agriculture, International Development and Religious Sciences. Based in India since 2002, she has been offering retreats there and around the world, mainly with Open Dharma.

Open Dharma teachers sometimes invite experienced participants to assist with the teachings, have a look at Guest Teachers page.

Teachings are given freely.
~ The role of the teachers
The Buddha said that we should be our own refuge, our own light, that he could only point the way but that we had to walk the path of awakening for ourselves.
Facilitators are only guides.
They are walking on the same path that students walk. They know some of the pitfalls and can help students avoid them or clear up confusion about them. They can inspire students to practice but ultimately it's the students themselves who actually have to do the work and realize the benefits of these practices.
Facilitators are therefore spiritual friends who are willing to share whatever wisdom they have. This is how their facilitators relate to them.
The point is that no one can free another. Why is that? Because the capacity for freedom is within each of us already. We simply need to discover ways to develop it.