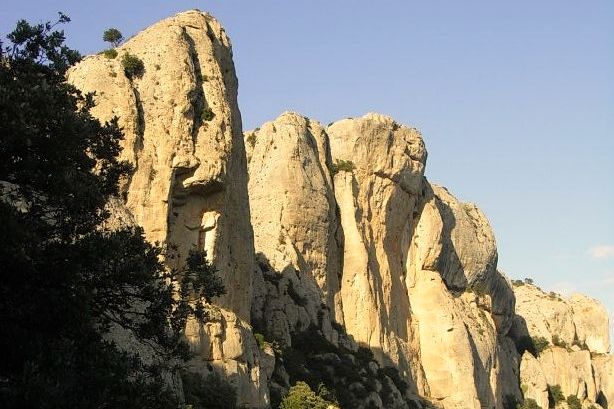 ~ Dharmaloca

After doing several group retreats with Open Dharma, some people feel called to discover, and deepen in, their own rhythm on a longer self-retreat with minimal teacher support.
On a completely donation basis for teachings and facilities, Open Dharma offers space for up to 5 experienced Open Dharma meditators for:
~ long-term, individual retreat
~ in intimacy with nature
~ and with minimal, informal support from the facilitators when they are home.
At Dharmaloca we also offer meditation with horses retreats. To know more about it visit awakening with horses.
Open Dharma uses part of 2 acres of privately owned land in a nature reserve on Montsant (literally, "holy mountain") in Catalonia, Spain. The land is surrounded by thousands of acres of protected biosphere with a stunning diversity of birds and wildflowers.
People have come to meditate on Montsant for centuries.
Dharmaloca photo slide show
Pass the mouse over the picture for the controls...
Practical notes:
Everyone at Dharmaloca has the pleasure of sharing the cooking and cleaning. To make it easier for retreatants, facilitators and the manager do the food shopping and help organize the tiny, rustic kitchen. Retreatants simply join the shared, as-much-organic-as-possible kitchen for a small fee per day per person.
Individual retreat here also normally includes 1-2 of hours of working meditation each day—weeding or digging, for example. The work easily fits into the silence and into each person's retreat rhythm.
~ Families and creative pursuits can often fit into the spiritual practice here, though silence is the basis for most people's retreats.
Facilities are very basic: Dharmaloca has an outdoor shower, outdoor meditation space, dry compost toilet, and urine recycling system. Retreatants bring their own meditation cushions, tent, sleeping mat, sleeping bag, pillow, towel, torch/flashlight, etc. Please note that there is no internet access while you are here. There are no banks, ATMs, nor good shops for food, medicine, toiletries, etc., easily accessible from Dharmaloca.
Guidelines
~ By application only.
~ To apply, you need to have done at least one prior Open Dharma retreat (does not include yatras). Preference will be given to those who have done several Open Dharma retreats.
~ Minimum stay is 2 weeks. You commit to stay the whole time you reserve.
~ If you do not have your own transportation, you can arrive and depart only a Tuesday or a Friday.
To apply for individual retreat at Dharmaloca click here
To know about the Awakening with Horses vision at Dharmaloca, click here.